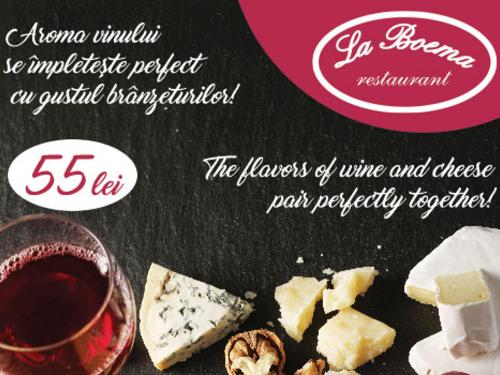 The flavors of wine and cheese pair perfectly together!
Our Chef's recommendation:
1 glass of wine + 1 cheese platter
The cheese platter includes:
Camembert cheese
Brie cheese
Gorgonzola cheese
Parmesan cheese
Walnuts
Candied apricots
Red grapes
Breadsticks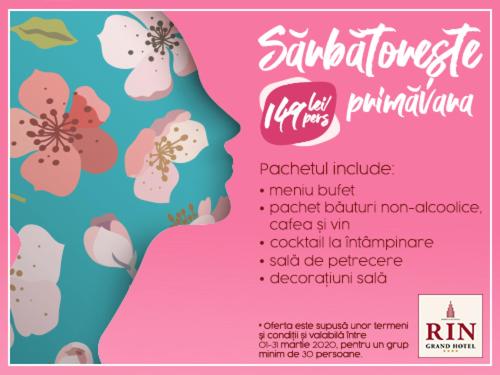 Trinket Worn in honour for women!
March is the month of women. Mothers, sweethearts,daughters, sisters and girlfriends all must be celebrated as it should be. Many times, a bouquet of flowers is not enough, therefore, at RIN Grand Hotel you can skip to the next level and organise an unforgettable evening for the woman of your life. During the period 01st – 31st of March, you can enjoy a delicious menu at only 149 lei/person.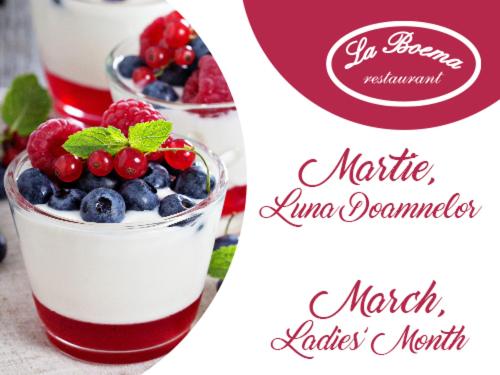 March, Ladies` Month
1st-8th March
Complimentary dessert with any food order.
Celebrate the month of love at RIN Grand Hotel!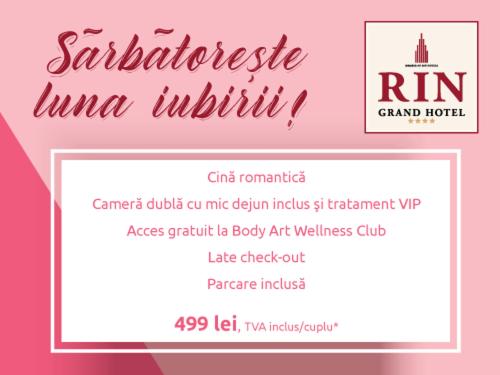 There's nothing more beautiful in life than love! Throughout the month of February we celebrate love and we do our best to show how much we care about our loved ones. If you wish to impress your better half and you still have not found a way to do it, search no further. RIN Grand Hotel has prepared the most romantic offer which will definitely amaze your lover. With only 499 lei for two people, VAT included, you will enjoy the most beautiful moments in the grandest hotel in Bucharest.
The special Valentine's Day package includes:
· A romantic dinner. You will enjoy a stylish food menu with a great selection of dishes cooked by our talented chefs;
· A comfortable double room, with VIP treatment and breakfast included;
· Free access to Body Art Wellness Club, open 24/24 hours, where you can spend unforgettable moments and enjoy our fitness and aerobic classes as well as facilities like jacuzzi, sauna, emotional shower, Scottish shower and ice fountain.
· Late check-out so that the time spent together be longer;
· Parking included.
The offer is available between 1-29th of February 2020, so you can surprise your loved one anytime!
Stay 3 nights and save 10%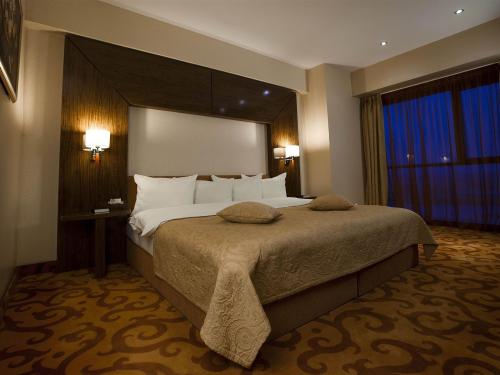 Book directly on our website 3 consecutive nights at RIN Grand Hotel and save 10%. Free upgrade to Superior room type, upon availability.
Book now
Early booking
Get 10% discount booking at least 15 days before arrival.
Book now
Promotions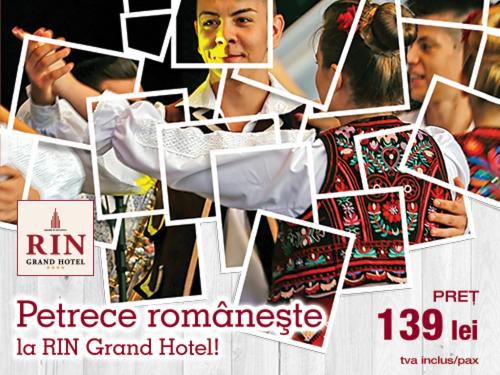 Romanian party at RIN Grand Hotel

Every culture, every taste and every people you met are beautiful. If you want to know your world, you should travel and discover all the beauty of it. As Romanians, at RIN Grand Hotel we consider that our traditions, our taste, and our people are the most beautiful. Maybe we are subjective, but we are sure that our parties are great.

That's why we invite you to discover a Romanian Party at RIN Grand Hotel.
You can bring all your friends to taste a little bit of our food and drinks.

Gather all your friends and for just 139 lei / person you will enjoy a traditional menu and drinks brought from the heart of Romania.

What can you taste?

In our Romanian party package, you can find many interesting dishes and unlimited drinks. We will arrange the space with Romanians motives and we will wait for you with our traditional ?uica.

If you want a complex party, we can find for you some great musicians, DJ's or dancers.

Have a great romanian time at RIN Grand Hotel !
Book directly & get extra benefits !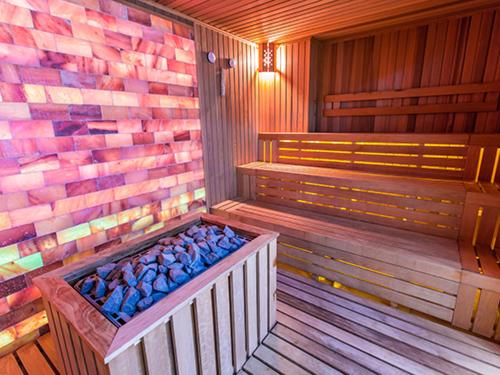 You can benefit a greatest deal, on our website exclusive:
Book directly
on RIN Grand Hotel official website for free wellness club access (fitness area, indoor swimming pool, sauna)